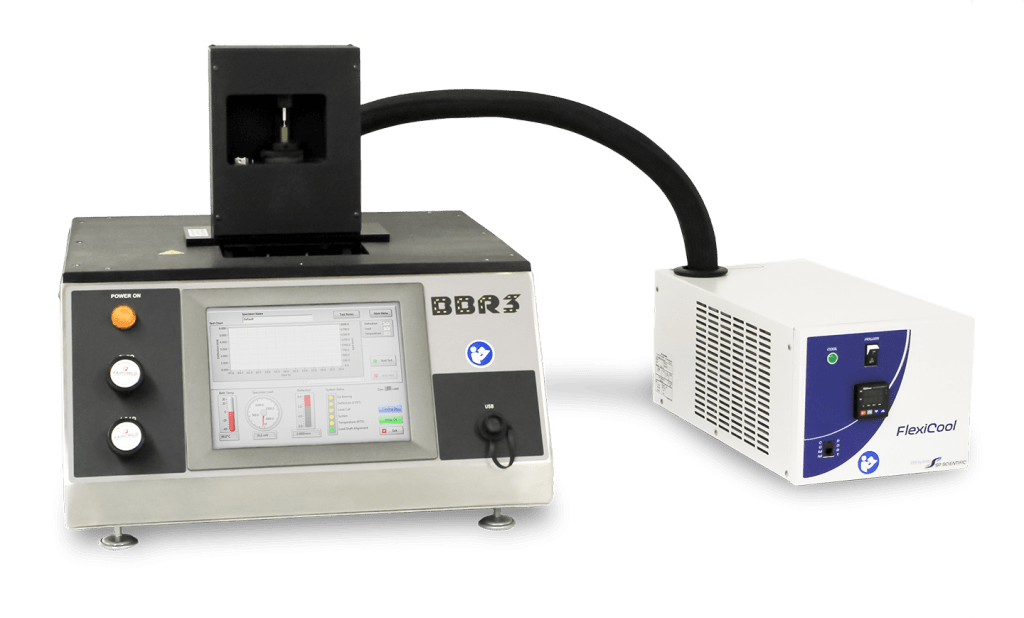 The new and improved Applied Test Systems (ATS) Bending Beam Rheometer 3 (BBR3) has been designed to perform flexural tests on asphalt binder and similar specimens per AASHTO T 313, AASHTO TP 87, ASTM D6648, and BS EN 14771 specifications as part of the PG grading system according to Superpave. An ATS original, the BBR3 is the first of its kind to offer an internal computer system incorporating touch screen technology.
Each BBR3 consists of a fluid bath base with a built-in touchscreen computer, load frame, external refrigeration unit, and a calibration kit with carrying case. Used in part to determine a sample's critical cracking temperature and low temperature PG grade, the BBR3's -40⁰C to 25⁰C temperature range is efficiently calculated by a platinum RTD measuring device. The 500g load cell and changeable specimen supports easily transition the BBR3 for crack sealant testing.
Designed to be user friendly and efficient, the BBR3 allows operators to enter a multitude of customizable test parameters. A built-in Ethernet connection allows users to monitor their equipment remotely using a tablet, smartphone, or other mobile device.
PROGRAMMABLE TEST PARAMETERS
Users may program the amount of force (up to 400 grams), the length of time force is applied, the length of time for the specimen to recover, and the specimen size.
LANGUAGE OPTIONS
Seven pre-programmed languages are available for selection, and can be chosen with a push of a button on the touchscreen. Operators may choose from English, Spanish, French, Italian, German, Chinese, or Arabic.
DIGITAL TOUCHSCREEN COMPUTER
The built in computer included with the new BBR3 replaces the external computer that had accompanied previous models. New software walks users through the test, setup, verification, and standardization process. A large, industrial strength touch screen makes programming tests and entering custom settings user friendly and efficient. The screen is slanted for improved visibility and ease of use.
REMOTE COMMUNICATION
The BBR3 features an Ethernet connection port on the back of the unit. Once connected to a network, users can monitor their equipment using a VNC viewer downloaded on a tablet, smart phone, or other mobile device.
CUSTOMIZABLE REPORT SETTINGS
Customizable report settings allow users to type notes and add up to two images into their header or footer – perfect for adding company logos and accreditations.
STANDARDS
AASHTO T 313
AASHTO TP 87
ASTM D6648
BS EN 14771