The new and improved Applied Test Systems (ATS) Bending Beam Rheometer 3 (BBR3) has been designed to perform flexural tests on asphalt binder and similar specimens per AASHTO T 313, AASHTO TP 87, ASTM D6648, and BS EN 14771 specifications as part of the PG grading system according to Superpave. An ATS original, the BBR3 is the first of its kind to offer a state of the art internal computer system incorporating touchscreen technology. Programmable test parameters allow users to input and save their own unique settings, allowing the BBR3 to satisfy a diverse range of testing applications.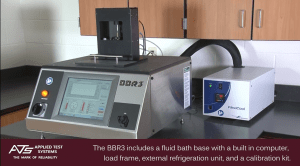 The BBR3 is made up of a fluid bath base with a built-in touchscreen computer, load frame, external refrigeration unit, and a calibration kit with carrying case. During operation, a known force is applied to the center of a horizontally supported specimen beam submerged in a cold liquid bath while internal software calculates the flexural creep stiffness of the beam. Used in part to determine a sample's critical cracking temperature and low temperature PG grade, the BBR3's -40⁰C to 25⁰C temperature range is efficiently calculated by a platinum RTD measuring device. The 500g load cell and changeable specimen supports easily transition the BBR3 for crack sealant testing. A free standing refrigeration ensures that the cooling fluid maintains a constant temperature.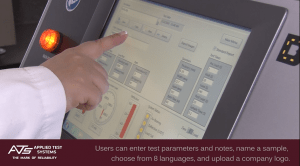 The external computer and software bundle that came with the previous ATS BBR model has been replaced by the BBR3's cutting edge, internal computer and newly designed software. An industrial strength, 12 inch touchscreen display provides immediate access and guides users through the test, set-up, verification, and standardization process. Air regulation and temperature control are now digitally monitored, and system status lights located on the front of the unit let users know which system components require verification. If verification cannot occur, the new BBR3 software gives users the option to standardize right from the verification screen.
BBR3 users now have the ability to customize their equipment more than ever before. Operators can enter unique test parameters, name a sample, add specimen notes, and upload their company logo directly into a test report. Eight programmable languages are pre-loaded and available for selection at any time using the touchscreen or a connected remote device. BBR3 users can choose between English, German, Spanish, French, Italian, Russian, Chinese, or Arabic to best suit their needs. Data is collected twice per second, and the ability to save and revisit custom settings conserves valuable laboratory time.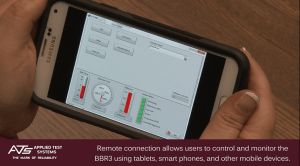 Ethernet connection is built into every unit, allowing users to connect to a wireless network and access the BBR3 remotely via PC, tablet, or mobile device. Users may also connect a wireless printer to quickly and efficiently print their results on site. For those who prefer a direct connection to remote access, the BBR3 offers two easily accessible USB ports located on the front and back of the unit. The BBR3's back USB port allows users to quickly attach a printer, while the front USB port can be used to upload software updates, download data, or connect a keyboard for efficient test setup. Once data is recorded, the BBR3 is capable of creating and saving a .csv file to the system's hard drive. Utilizing the front USB port, this file can easily be downloaded and charted in Microsoft Excel or other spreadsheet programs. Data acquisition has never been less time consuming or more straightforward.
Through over fifty years of industry experience, Applied Test Systems has developed a proven line of trusted, reliable, and modern testing equipment. Contact our team of knowledgeable sales engineers today at +1-724-283-1212 and make the BBR3 a permanent part of your materials testing lab.