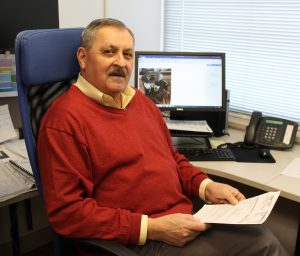 Tawn Harshall joined the ATS Sales Team on August 21st, 2017 – the same day as the historic solar eclipse! A valuable addition to the process heating department, Tawn has decades of experience in industrial furnace and heat processing, as well as extensive knowledge of energy consulting and plant engineering. He has a Bachelor's of Science degree in Industrial Engineering from Geneva College, and was a member of the US Army Reserves (319th Engineers, 443rd Field Depot). When asked what he likes most about working at ATS, Tawn explained, "Every day is different and presents new and exciting challenges. ATS produces good products, is made up of good people and good processes, and is a good plant to work at."
FUN FACTS
Favorite Movies: Star Wars series.
Favorite Foods: Steak dinner at Ruth's Chris Steakhouse in Pittsburgh, PA or a grilled chicken salad at Panini's Grill near Painesville, OH.
Favorite TV Shows: Discovery and Science Channels, Gold Rush Series, and Cops.
Favorite Sports: Golf and bowling.
Phobia/Fear: Lightning, until I learned more about it.
ATS EMPLOYEE SPOTLIGHT Q&A
Tell us a little bit about your family & favorite activities outside of work:
I am happily married. My wife Cheryl and I live in the country, west of Butler, and we raise and show horses. We have one daughter, Tami, who lives in Painesville, Ohio. Tami is a science teacher, with three wonderful kids. I enjoy golfing a lot.
What has been your proudest achievement?
I supervised the installation and start-up of (2) Automatic Robotic Work Cells for handling heavy brick from large presses at a refractory plant near Pittsburgh, PA.
Where would you like to go on a dream vacation?
Hawaii
Do you have any pets?
Yes. 3 barn cats, 3 small dogs, 3 ½ horses – one is a miniature horse.
Can you play any musical instruments?
Yes – saxophone by sheet, guitar by ear.