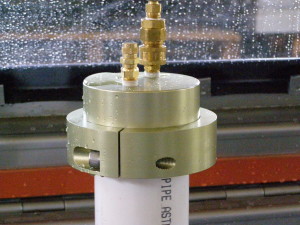 Applied Test Systems offers a full line of quality pipe/pressure testing systems, fixtures and accessories. We continually work to provide the newest improvements and innovations in these systems. While our main focus has been to provide testing equipment to meet the testing needs of ASTM D1598 and D1599 we can design and manufacture similar equipment to meet many similar applications.Pipe End CapsFor long-term hydrostatic and burst testing of plastic pipe.
Patented, lightweight, easy to assemble and disassemble.
Wide variety of sizes available.
Meets ASTM specifications.
Series 6010 End Caps (Unrestrained) (can be used for both static and burst)
Material: Anodized Aluminum.
Lightweight, quick and easy design.
Includes O-ring, stainless steel clamping screws, quick-change nipple and bleed valve.
Available in most IPS, CTS, CIOD sizes up to 12 in.While our standard line of test equipment is based on the above equipment. We will and have made many variations of this equipment to meet other testing needs