Download Brochure | Request a Quote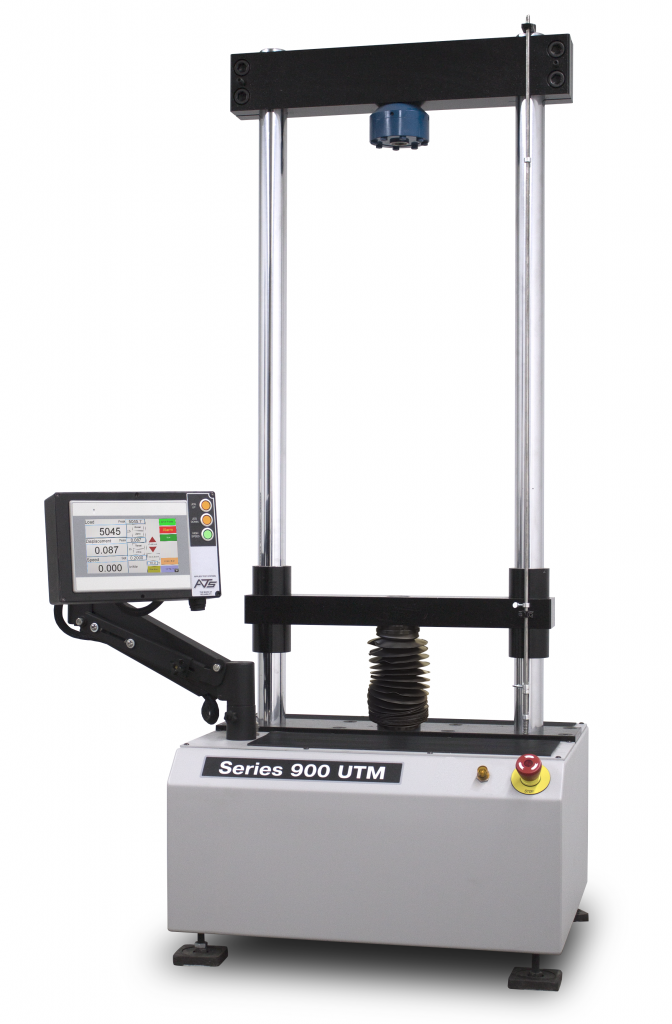 ATS Models 905 and 910 Universal Testing Machines provide an affordable solution to precision testing where requirements demand high accuracy in capacities up to 5,000 and 10,000 lbs., respectively. Featuring a compact, bench top design each UTM consumes a minimal amount of valuable laboratory space and is capable of performing tension, compression, and flexure tests on a variety of materials. An extra-large testing area easily accommodates various test set-ups, and rigid column construction with a single-screw drive provides precise alignment during testing procedures. Series 900 Universal Testing Machines have been designed with a simple, yet highly accurate user interface, making them useful for everything from quality control applications to high end research.
Features
Durable, long lasting testing equipment with intuitive, user friendly software and cost effective pricing.
7-inch touch screen HMI display, mounted on an articulated, adjustable arm.
Full line of optional accessories available for a multitude of different applications.
Large testing area to accommodate a variety of specimens.
Independent chrome-plated guide rods provide crosshead guidance.
Manually adjustable limit switches and upper crosshead.
System features include up/down jog buttons, return to zero, peak load/displacement recall, jog/high speed inputs, two capacities, and an improved speed range.
Compact design has a smaller footprint and makes the Series 900 perfect for those with limited testing space.
Safety features include an emergency stop system, overtravel limits, and automatic break detection.
Our customers have access to our skilled service team, who are trained and able to assist with calibration, technical support, or other service issues.
ATS has decades of experience building custom testing equipment. We welcome any inquiries on how we can design a custom test setup for your application.
Optional Accessories
A variety of accessories are available to provide extended testing capabilities. These include:
Furnaces
Extensometers
Additional Load Cells
Compression Platens
Pneumatic Grips
Bend Test Fixtures
Screw Action Grips
Standard Wedge Grips
Heating and Cooling Chambers
Data Acquisition Package
Extended crosshead travel and vertical clearance
A/Data Solutions Data Acquisition Package
Our optional data acquisition package is one of our featured accessories, and provides the most convenient way to store all of your test data. With its user friendly LabVIEW interface, A/Data gives users the ability to customize test details, monitor test progress, easily collect data, generate test reports, and perform a basic analysis of test results. The accessibility and convenience that our A/Data Solutions Package provides makes it a must have accessory for anyone that needs to save their test data for future access and analysis.
Product Specifications
Standard Dimensions
32 in. W x 24 in. D x 60 in. H
Load Frame Capacity
Model 905: 5,000 lbf. (22.2kN)
Model 910: 10,000 lbf. (44.4kN)
Frame Type
Bench top, single screw
Horizontal Clearance
16 in. (406 mm)
Vertical Clearance
36 in. (914 mm) standard, excluding grips or fixtures
Crosshead Travel
24 in. (610 mm) standard
Speed Range
0.02 – 20.00 in/min (0.50 – 500 mm/min)
Load Weighing Accuracy
± 1% of indicated load
Load Cells Available
10 lbs. through 10,000 lbs.
± 0.1% of range
Power Requirements
230 VAC, 1 Phase, 50/60 Hz, 15 A
Weight
500 lbs.
Product specifications subject to change without notice.