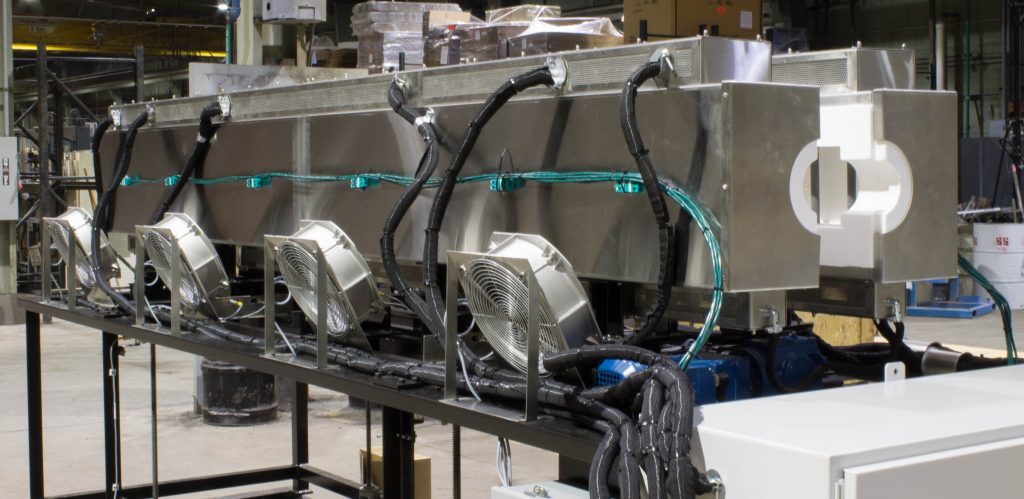 Applied Test Systems (ATS) is known worldwide for our ability to fully customize our products. When the typical furnace or oven won't meet a customer's unique testing requirements, our team of reliable sales engineers is committed to working with them one on one to design the perfect piece of equipment for their application. Recently we were tasked with building an oversized version of our basic 3420 split tube furnace for Lake Region Medical – a premiere company that engineers and manufactures products in the cardio & vascular and advanced surgical markets.
The Lake Region Medical 3420 Split Tube Furnace features a total heated length of 120 inches, and a maximum temperature of 1200°C. Designed to heat the customer's quartz tube specimen, it features supports to hold the tube in place and a heavy duty stand which allows the furnace to open along a vertical split, exposing the specimen. During operation, the furnace lowers with the specimen and closes. The six zone arrangement ensures even heating along the length of the specimen, while a set of fans on the furnace stand give the operator the option to provide additional cooling. The total power requirements for the unit were 38600 watts @ 480 volt 3 phase.
This is just one example of the infinite number of unique, custom pieces of equipment that can be designed and built here at our facility. To speak with an ATS sales engineer and receive a quote on your custom furnace or oven, contact us today at +1-724-283-1212 or sales@atspa.com .
PRODUCT VIDEO:
ADDITIONAL PRODUCT PHOTOS: