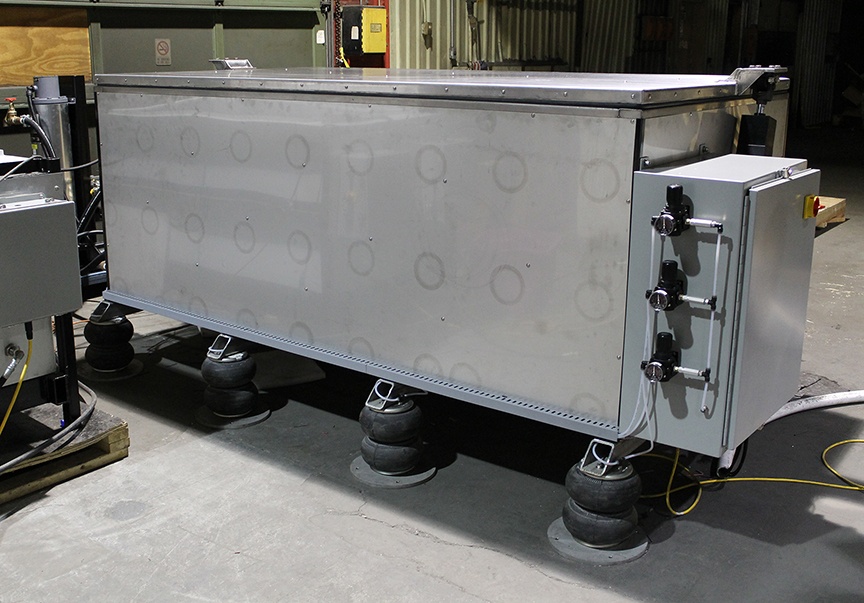 At Applied Test Systems (ATS), we work with a diverse range of customers across multiple industries. Our team of experienced engineers and technicians are known for their problem solving skills and ability to create equipment to meet unique specifications. Whether they are looking for a new lab furnace or custom test frame, ATS customers know that from beginning to end, our team will help them find the perfect testing solution.
We were recently contacted by a customer looking for a replacement pressure test enclosure for a burst test system. Both their current burst test system and enclosure had been purchased from another company, with the enclosure failing to meet their expectations and testing requirements. The system itself was similar to the ATS Series 1835 Burst Test System, requiring a heavy duty, stainless steel, heated testing enclosure capable of testing at 5,000 psi and maintaining a water temperature of 85°C (185°F). Our team of engineers and technicians designed a replacement Heated Pressure Test Enclosure, fully customized to meet our customer's specifications. Equipped with user friendly touch screen controls/HMI, the enclosure also included a water heater, temperature control system, and recirculating system. A water level sensor with automatic fill and an automatic lid with pneumatic actuators ensured ease of use. The stainless steel tank itself was large and durable, with air springs beneath it for additional support.
This is just one example of specialty equipment that can be designed and built here at our facility. To speak with an ATS sales engineer and receive a quote on your custom burst test system, contact us today at +1-724-283-1212 or sales@atspa.com .