ATS offers an extensive line of lab furnaces and high temperature accessories world renowned for quality and reliability. Review our basic lab furnace designs and styles below or call our experienced sales engineers to provide custom diameters, lengths, operating temperatures, and control systems to meet your unique process requirements. Mounting brackets and accessory items are available to ensure easy installation and startup; or contact our qualified Service Department!
3150/3160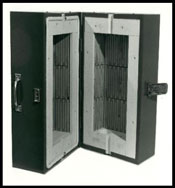 Features:
Stainless Steel Shell
Ceramic shell heater with Nichrome (1850°F/1000°C), Kanthal A1 (2200°F/1200°C), or Kanthal APM Winding (1250°C)
Low K-factor vacuum cast ceramic fiber insulation
Build-to-Order

Custom zone arrangement
Wide selection of widths, lengths, & mounting arrangements
Variety of configurations (isothermal, gradient, & adiabatic
Accessories:
Extensometer mounting flats
Extensometer slots
Thermocouples
Load train ports
Viewports
Gas ports
Custom heating elements
Temperature control systems
Additional options available, contact ATS for more information!
Click here to see the typical heat up curve!
Click here to see the standard sizes!