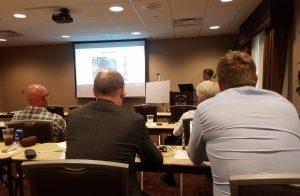 The 2017 Applied Test Systems (ATS) international sales conference was held June 20th and 21st at our Butler, PA facility. Our first day was spent discussing current product developments through presentations and Q&A sessions, and the second day was dedicated to hands on training. Led by our skilled service team, everyone was able to work directly with equipment from our creep/stress rupture and asphalt testing product lines. These training sessions provided valuable experience, and allowed for further teambuilding among our internal, regional, and international sales representatives.
This year we were fortunate enough to have our sales agents from France, India, Russia, the UK, and Slovenia attend the conference. After our training sessions ended each day, we were grateful for the opportunity to share dinner, laughter, and drinks. With numerous sales representatives across the globe, we recognize that not everyone can make it to our annual sales conference. We encourage our sales agents that can't attend to contact us so that we may coordinate a visit that better accommodates their travel schedules. Earlier this year our South Korean agents joined us at our manufacturing plant, and we plan to see more of our international associates this fall.
The diverse experiences, skills, and market insights that each member of our sales team brings to ATS is imperative to our continued success. We are thankful for all of your contributions and continued efforts, and look forward to our next conference in 2018!