The ATS Service Department is standing by, ready to meet all of your field service and global calibration needs. Our qualified technicians service both ATS equipment and equipment from other manufacturers. We have staff available to assist with installation, calibration, training, and repairs – both onsite and in the field. Read more about each area of our service department below to learn about how ATS can help ensure that your equipment is operating at its maximum efficiency. To view the accredited calibration services ATS offers, download a copy of the A2LA scope of accreditation (certificate number 2132.01).
For more information on ATS services, contact our service department at
service@atspa.com
or by telephone at +1-724-283-1212.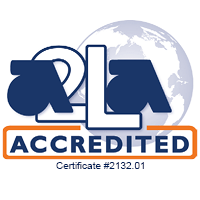 A2LA Accredited
The ATS calibration laboratory is accredited to ISO/IEC ISO 17025:2017 by the American Association for Laboratory Accreditation (A2LA).
---
Our customers have found that the most effective way of implementing new testing equipment is to have installation and training performed on-site. This guarantees that the machinery is installed properly and that the end-user is informed of all of the equipment's capabilities and proper methods of operation.
---
ATS offers calibration services for all of our equipment and also can support your calibration needs for other equipment within your laboratory. We are ISO / IEC 17025 accredited through A2LA, assuring you accuracy, NIST traceability, and trust throughout the lifespan of your equipment. Our calibration technicians are available worldwide for your calibration needs. Utilize ATS's experience in laboratory calibration to ensure that your laboratory or quality control facility produces the most accurate results possible.
---
ATS offers complete repair services in house and on-site for all of your ATS equipment. All repairs are completed by our qualified electrical/metrology technicians. We offer reasonable prices, quality service, and a quick turn around time. Our preventative maintenance plans are an effective way to ensure your laboratory equipment remains functional.
---
During ATS custom instructional courses, we'll demonstrate the proper operation of your new ATS testing equipment. You will be instructed on how to precisely and efficiently measure the properties you need. Training can be conducted at either the time of installation or on an as-needed basis and includes instruction on the basic operation of the machine as well as training on any software fundamentals.