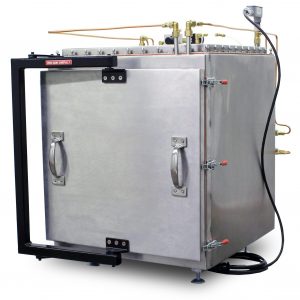 Known internationally for our ability to design and manufacture customized process heating solutions, here at Applied Test Systems (ATS) we are constantly working towards developing outstanding and efficient products. Our customers know that our reliable systems are built to last, supported by the skillful technicians in our service department.
Recently we designed and built a custom version of our standard Series 3350 High Temperature Box Furnace. Unique to this unit was the ability to hold an atmosphere – whether argon or nitrogen. The system was designed to purge the furnace of air and backfill with argon, which was delivered from a customer supplied argon tank. This design provided the customer an affordable way to operate the furnace without oxygen present, allowing them to avoid buying an additional vacuum furnace.
Capable of reaching temperatures up to 1700°C, this custom Series 3350 High Temperature Box Furnace was constructed from heavy gauge stainless steel with leveler mounts. A modified shell with water cooled seals was designed to contain the inert atmosphere, and a water manifold with valves provided independent control at each section of the furnace that requiring water cooling. Additional specifications and features included:
Additional Features and Specifications:

– Internal dimensions:  10 in. W x 10 in. H x 11 in. D
– External dimensions: 21.5 in. W x 25.5 in. H x 22.5 in. D
– Molybdenum Disilicide elements.
– Power: 7200 Watts.  Unit must run on 160 VAC @ 45 amps and requires a current limiting device for control.
– Single end door with hardened vacuum cast insulation.
– Flow switch provides automatic power down due to flow loss
– 2-Type B thermocouple with insulator, connector, and 2-Sealing gland for power connections
– Low range relief valve, 2 psi
– Roughing Pump: 3.2 dfm with mist eliminator, valve, and gauge
– 2-Gas Ports: 1/4 in. dia., inlet and outlet
Additional Photos:
This is just one example of the infinite number of unique, custom pieces of equipment that can be designed and built here at our facility. To speak with an ATS sales engineer and receive a quote on your custom furnace or oven, contact us today at +1-724-283-1212 or sales@atspa.com .