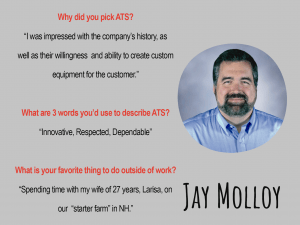 Jay Malloy
is a Regional Sales Engineer for the Northeast US. His responsibilities include: traveling to and meeting with our customers, getting to know them and their business in order to help them find solutions to their equipment needs. He started at ATS in November of 2019. Jay says that his favorite part of his job is building relationships with people and he picked ATS because he is impressed with the company's history, as well as our "willingness and ability to create custom equipment for the customer". When asked to describe our company in three words, Jay said " innovative, respected, and dependable".
Jay has a degree in Mechanical Engineering and has been in manufacturing (on the engineering and operations side) for over 30 years, most of that in test equipment serving the electronics industry. Most recently, he was working in business development for a company that provided surface treatments to the aerospace and automotive customers.
Now when he isn't working at ATS, Jay likes to spend time with his wife of 27 years, Larisa, on their "starter farm" in New Hampshire. Jay hopes to one day master all of the ATS product lines and if he could learn anything he would love to learn how to sing. Jay says "my kids are all amazing performers, but I find myself lip-syncing in church!"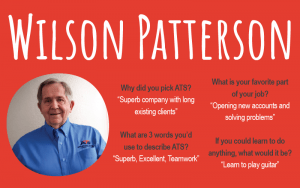 Wilson Patterson is a Regional Sales Engineer for the South Central US. His responsibilities include calling and servicing existing clients as well as opening up accounts for new ATS clients. He started in November 2019 and he says he picked ATS because it is a "superb company with long existing clients". Wilson's favorite part of his job is opening new accounts and problem solving. Wilson has a Masters of Science degree and wishes to one day learn how to play guitar. When Wilson isn't working he likes to play golf and dream of one day driving a fast race car. When asked to describe ATS in three words, Wilson said "superb, excellent, and teamwork".