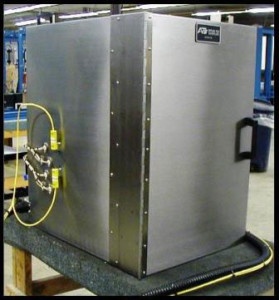 ATS offers an extensive line of ovens and accessories world renowned for quality and reliability. Our outstanding features and experienced design engineers make our ovens among the most durable and efficient manufactured today.  ATS' ovens come in a variety of standard sizes and can easily be altered to meet your custom needs. Our top-of-the-line equipment can be shipped to you with any accessories and mounting that will meet your requirements. Our Series 3700 HT Ovens have all of the exceptional features as the ATS 3700 Ovens as well as:
Higher Temperature range: 0°C to 620°C (70°F to 1150°F), Optional cooling: LN2 -185°C ( -300°F) and LCO2 -57°C ( -70°F
Additional insulation
A heavier blower wheel
High temperature light
High temperature viewports
Additional options available, contact ATS for more information!
Dimensions
Internal (in.)
External (in.)
Watts
W
D
H
W
D
H
6
6
15
14
20½
23
1000
8
8
15
16
23
23
1250
8
8
22
16
23
30
2000
10
10
18
18
24½
26
2000
10
10
21
18
24½
29
3000
10
10
26
18
24½
34
3000
12
12
20
20
27½
28
3000
14
14
22
22
29½
30
4000
16
16
24
24
31
32
5000
18
18
26
26
34½
34
6000
20
20
28
28
36½
36
7000