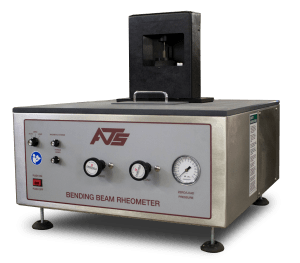 The improved ATS Bending Beam Rheometer (BBR2S) is engineered to perform flexural tests on asphalt binder/bitumen and similar specimens per ASTM D6648, BS EN 14771, and AASHTO T313. These tests consist of a constant force being applied to a specimen in a chilled bath in order to derive specific rates of deformation at various temperatures. Enhanced software and the ability to perform crack sealant tests expand the capabilities of the BBR2S beyond those of the original BBR2. Intuitive programming guides operators through test setup, providing a highly customizable and user-friendly experience.
Features
PID temperature controller with digital display
Two independent platinum RTDs for precise temperature control
External cooling unit with temperature controller
Test temperatures of -40° to 25° C
Three-point bend test apparatus
Stainless steel, durable, corrosion-resistant construction
Meets ASTM D6648, BS EN 14771, and AASHTO T313 test standards
Computerized control, data acquisition, and analysis
Integral LVDT and temperature-compensated 500 gram load cell
Optional Crack Sealant Testing Hardware
New Software and Reporting
The BBR2S features the newest version of our BBR software, which includes:
Programmable Test Parameters – amount of force, length of time force is applied, the length of time for the specimen to recover, and the specimen size.
Language Options – Seven pre-programmed languages include English, Spanish, French, Chinese, German, Italian, and Arabic.
System Status Lights – Clearly indicate which system components need to be verified. If verification cannot occur, the software gives users the option to standardize right from the verification screen.
Customizable Reports – BBR2S users now also have the ability to name their samples, enter any important notes, and upload their company logo directly into their test report.
Step Disk and Gaging Kit
Each BBR2S comes with a gaging kit which includes:
Step Disk – Prevents movement with detent locking mechanism and the highest level of accuracy.
Four 50g weights, two 2g weights
Certified confidence beam
Certified compliance beam
Carrying case
To learn more about the BBR2S or the rest of the ATS line of asphalt testing solutions, contact our sales team a +1-724-283-1212 or by emailing sales@atspa.com .