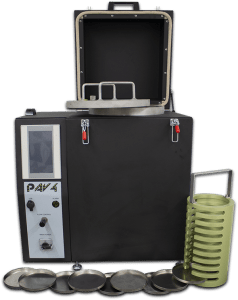 Introducing our new and improved, CE certified PAV4. We listened to your feedback, we heard you, and we implemented some changes. The PAV4 is everything you need from the old design, with improved specifications to make it better than ever. Upgraded heating elements allow for a faster recovery time of 30 minutes or less. Updated, enhanced software provides the highest level of efficiency and reliability. The voltage range has changed as well. With a 208-240 capacity, this range of power allows the PAV4 to be operated in more labs than ever before. Get your quote for the new PAV4 today.
Features
CE Certified Model
Improved recovery time of 30 minutes or less
Platinum RTD temperature measurement
Rugged, powder coated, black exterior
Industrial strength touchscreen display and enhanced software
Data acquisition features include time, temperature, and pressure
USB Port on the front of the unit makes data downloads and software upgrades easy
Includes 10 AASHTO T 179 specimen pans and a solid, precision anodized aluminum specimen holder
Optional battery backup system prevents test interruption or data loss due to power failure or line voltage fluctuations
Languages options include English, German, French, Italian, Chinese, Spanish, and Arabic
Product Specifications
Unit Design
Benchtop unit with integral vessel/oven design
Specimen Capacity
10 TFOT sample trays (included)
Product Dimensions
27.5 inches wide x 30 inches high x 18 inches deep
(700 mm wide x 760 mm high x 460 mm deep)
Weight
290 lbs. (130 kg)
Operating Pressure
2.10 ± 0.05 MPa (304psi)
Product specifications subject to change without notice.
Click here to download the PAV4 Data Sheet
To learn more about the new PAV4 or any other ATS testing solutions, contact our sales team at +1-724-283-1212 or by emailing sales@atspa.com .