Request a Quote | Download Brochure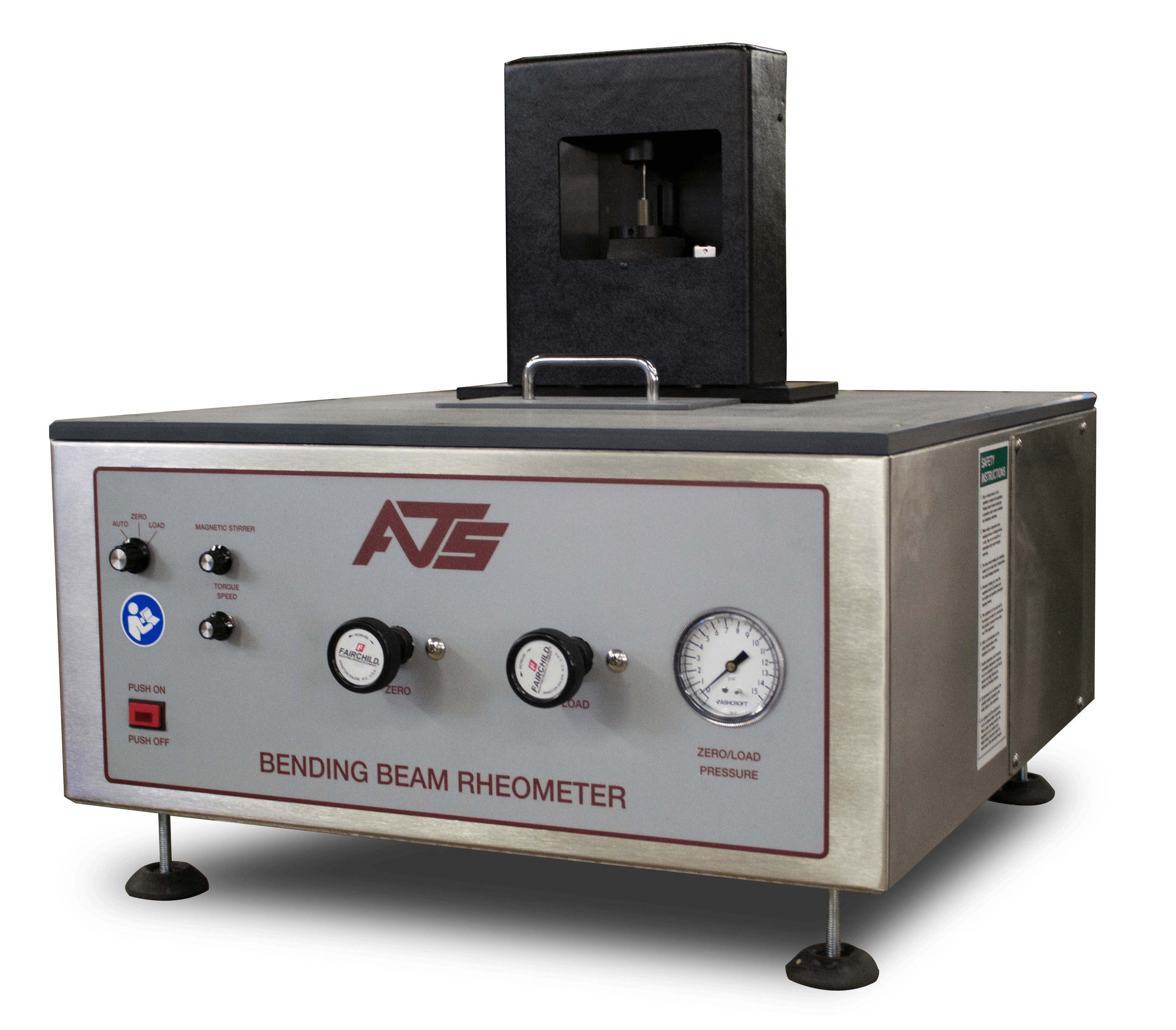 The improved ATS Bending Beam Rheometer (BBR2S) is engineered to perform flexural tests on asphalt binder/bitumen and similar specimens per AASHTO T 313, AASHTO TP 87, ASTM D6648, GOST 58400.8-2019, and BS EN 14771 specifications. These tests consist of a constant force being applied to a specimen in a chilled bath to derive specific rates of deformation at various temperatures. Enhanced software and the ability to perform crack sealant tests expand the capabilities of the BBR2S beyond those of the original BBR2. Intuitive programming guides operators through test setup, providing a highly customizable and user-friendly experience.
Features
New and improved LVDT calibration disk and weight pan as well as an enhanced software update (2.8.1 and later).
PID temperature controller with digital display
Two independent platinum RTDs for precise temperature control
External cooling unit with temperature controller
Test temperatures of -40° to 25° C
Three-point bend test apparatus
Stainless steel, corrosion-resistant construction
Computerized control, data acquisition, and analysis
Integral LVDT and temperature-compensated 500 gram load cell
Optional Crack Sealant Testing Hardware
Features
The BBR2S features the newest version of our BBR software, which includes:
Programmable Test Parameters – amount of force, length of time force is applied, the length of time for the specimen to recover, and the specimen size.
Language Options – seven pre-programmed languages include English, Spanish, French, Chinese, German, Italian, and Arabic.
System Status Lights – clearly indicate which system components need to be verified. If verification cannot occur, the software gives users the option to standardize right from the verification screen.
Customizable Reports – BBR2S users now also have the ability to name their samples, enter any important notes, and upload their company logo directly into their test report. Test data available in CSV and HTML.
Unit Includes
Specimen Mold Kit for (5) Molds

Aluminum casing bars, Mylar strips, & holding bands
127 mm. length, with end piece location marks
6.4 mm thick, 12.7 mm wide
Calibration Kit

(1) Step disk & index
(4) 50 gram weights
(2) 2 gram weights
(1) Confidence beam
(1) Non-compliance beam
Wooden storage case
Personal computer with keyboard, mouse, and high color resolution monitor

Installed:

Latest BBR software
Security software and MS Office Basic
Product Specifications
| | |
| --- | --- |
| Temperature Range | -40 to 25°C |
| Operating Temperature | Ambient to -40°C |
| Test Load | Variable range from 0-200g standard within +/- .5g |
| Test Cycle Times | Cycle times for pre-load, recovery, and test load are completely operator adjustable |
| Load Cell | 500g (temperature compensated) |
| LVDT Displacement Transducer | 0.25 in. (6.35 mm.) calibrated range to provide 2um resolution throughout testing and verification range |
| Recommended Cooling Bath Fluid | Non-flammable ethylene glycol mixture |
| Coolant Capacity | 2 gallons (7.57 liters) |
| Temperature Measurement | Platinum RTD |
| Power Requirements | 115 VAC 60hz standard, 230 VAC 50/60 hz optional |
| Compressed Air Requirements | 50 psi (0.34 MPa) clean, dry air supply required |
| Dimensions | 24.125" W X 24.125" D X 23.25" H (w/ load frame) |
| Weight | Approximately 270 lbs. |